Spinning a rich tone color, sound begins to pour out. And, in that moment, a special "space" is born.
We, INNY Music Company, Ltd. Co., create this space and, as a type of entertainment, aim to create a wonderful environment to share with you all. By pursuing the possibility of the abstract or infinite, we work hard, hoping that this new "space" will reach out to you all.
Bset Regards,  
C.E.O. Hitoshi Fujima  

Company Name
INNY Music Company, Ltd. Co.
株式会社アイニー・ミュージックカンパニー
Address
1F 1-13-4 Umegaoka,Setagaya,Tokyo 154-0022
President
C.E.O. Hitoshi Fujima
Founded
October 16th, 2009
Works & Services
・management of musicians
・planning, producing, and managing of various musical events
・importing, dealing, maintaining, and renting new/used musical instruments and musical goods
・planning, producing, publishing, and dealing electronic publications, books, and paper contents
・managing the music school "Studio Arpa"
・all the enterprises which carry out incidental relation at the above
Associated Company
C.M.I., Co. (Alhambra Instruments)

October, 2009
founded INNY Music Company, Ltd. Co. at Ohara, Setagaya, Tokyo
the management section was transferred from C.M.I., Co.
September, 2010
the office is relocated to Fukasawa, Setagaya, Tokyo
October, 2010
management of "Studio Arpa" was transferred from C.M.I., Co.
September, 2011
dealing of Arpa was transferred from C.M.I., Co. (Alhambra Instruments)

INNY Music Company is welcome to receive the request of the performance as a recital, as a guest starring, as a festival appearance, and various events, to Arpista (the Paraguayan Harp players) including Mika Agematsu at any time. If you would like to book one of our artists for a performance, please feel free to contact us by Email / phone / FAX. We are looking forward to your requests.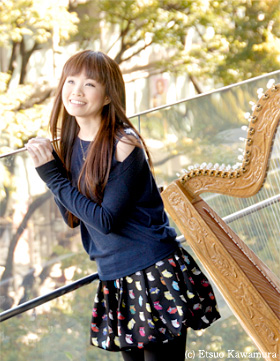 Born in Shinshu, central part of Japan.
Started playing Arpa since the age of 13 under instruction of her mother, who is also a professional Arpa player. Later years she made some trips several times to Paraguay and received educations from famous Arpa professionals, and made a notable growth.
In 1998, performed at the biggest music festival in Paraguay "Festival De Tacuare" as the first Japanese who ever participated and receives "Special Award". In 1999, she won the 1st prize at the Secnd Japan All National Arpa Competition. In the same year, Veracruz Art University in Mexico honored her with the title "Maestro of the Arpa" at the 5th Funjo Musical. She also participated the concert in Xalapa city in Mexico as well, and in the same time, she appeared the Mexican TV program and played 5 pieces.
In 2000, Agematsu made her major debut by releasing the 1st solo album and released 5 albums by end of 2002. Some of which became the best selling classical album of the year and staying tin charts for 14 straight weeks. In 2005, she moved the recording label to Universal Music Japan, and released 6 albums and 1 Live DVD until 2009.
As she became well known, the number of concerts increased. It counted more than 200 in one year in the year of 2002. In 2008, she had her first original concert in Paraguay "Sinfonia de Arpa 2008" which was a big success, receiving standing ovation from the sell-out crowd.
Her works has been used in many media such as the main theme of BS Japan TV program "Shashinka tachi no Nihon Kiko" (Japan Travel by Photographers). She received the honor of "Awards to Women" in the art category from Avon Products Co. Ltd. Recently she has the special relationship with Nana Mizuki who is well known as the nationwide voice artist. In 2009, she attended the Japanese biggest TV program aired by the Japan Broadcasting Corporation, NHK. She also appears at the Tokyo Dome, Seibu Dome, Yokohama Arena, and Saitama Super Arena to be the special guest musician for Nana Mizuki.
Her musical expression by Arpa is not limited to traditional South American music, and makes challenges to other field such as the cinema music, and the musical pieces, etc. She continues to seek her own originality and sound. Her brilliant technique and sound quality attract many audiences.